The Revolve Difference is Heightened
Our process revolves around you
At Revolve, you are the focus of every meeting. We ask questions to help uncover as much pertinent life information as possible to effectively build a customized strategy for you. Our 6-step financial planning process allows us to create, implement and maintain your entire wealth plan, all while collaborating with your attorneys, accountants, and other members of your professional team to ensure everything is on track. We know that it can be easy to get lost in career, family and other personal obligations. This is why we proactively provide updates to keep you on top of your financial world.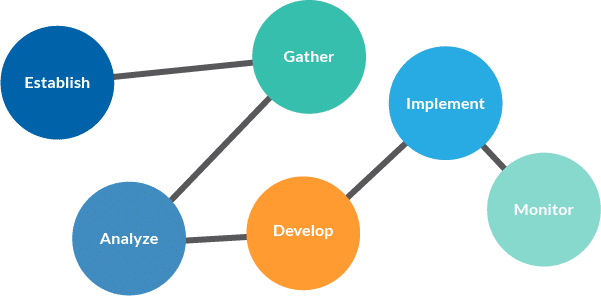 Our experience and our team are diverse
The roots of our practice began 40 years ago. Our multigenerational team has protected and advanced our clients' wealth through many different market cycles and political climates. We take pride in the longevity of our client relationships and are focused on continuous improvement. Leading our firm's practice are seasoned CERTIFIED FINANCIAL PLANNER™ professionals (CFP®s) who are supported by a full team that is strategically aligned to deliver exceptional service.
We take the fiduciary standard to heart
For Revolve clients, honesty, transparency and trust are paramount. As a Registered Investment Advisor (RIA) with advisors who are CFP® professionals, we are fiduciaries*for all of our clients. Therefore, we have a legal and moral obligation to provide advice and make decisions that put the best interests of our clients first. We've made a formal commitment to act with integrity, objectivity and diligence with an entire team who shares this pledge. We set expectations early and are committed to providing full disclosure in everything we do.
We are focused on safety and cutting-edge technology.
We invest in industry-leading technology that safeguards your assets and helps you effectively visualize your entire financial world. Our tools aggregate your information into a single easy-to-read, customized report. Our state-of-the-art client relationship management (CRM) system allows us to track and streamline our processes. We've partnered with Charles Schwab and Co, Inc. – one of the largest custodians of assets – implemented additional compliance programs, and built specific procedures to maintain the standard of care your assets deserve.
*Schwab, who will be responsible for the safe keeping of your assets, has SIPC insurance (for information visit www.sipc.org/for-investors) and a program led by Lloyd's of London to provide excess SIPC insurance up to $600 million. Visit schwab.com for more information on how your assets are protected through Schwab.
Want to know more about what sets Revolve apart?